Each year, courses in Humanities First are taught by faculty from across the Humanities division. This year, we have professors from Scandinavian Studies, English, Classics, and German Studies. Learn more about them below!
Humanities 101 Autumn 2023
Primary Instructors
Lauren Poyer is an assistant teaching professor in the Department of Scandinavian Studies. She is a medievalist who specializes in Old Norse-Icelandic studies, and her research focuses on Christian folk religion as represented in the Sagas of Icelanders. She regularly teaches Scandinavian Mythology, Sagas of the Vikings, Vikings in Popular Culture, and Old Norse Language. She believes that investigating modern cultural myths about the Middle Ages gives students the tools they need to become better-prepared and better-informed citizens of the world, and that learning to understand people from the past in their own words can help students become more aware of how language and culture shape their own lives and open doors into the lives of others. She is looking forward to co-teaching HUM 101 in Autumn 2023 because the theme of "dreams and nightmares" lets us inhabit the middle space between what is and what could be.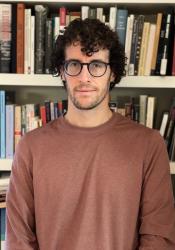 Professor Jason Groves (German Studies) works in several fields, but the broadest one is the environmental humanities. While Professor Groves was (and is) interested in literature and science, it was a course on literature and the environment that was the most impactful for his undergraduate studies. Today Professor Groves is most interested in the inhuman: how various notions of the human in the humanities have been constructed though forms of belonging and exclusion, especially the exclusion of those deemed nonhuman like animals, plants, and rocks. Professor Groves offers readings of literary and visual artists who seek in their art to understand and repair the rifts between the human and more-than-human world.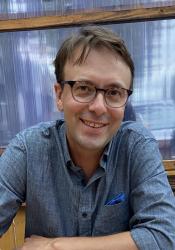 Jesse Oak Taylor (English) teaches ecocriticism, a field that uses literature, art, film, video games, and other cultural artifacts (a taxidermied leopard skin, for example) to understand humanity's relationship with the Earth. The "eco" in ecology comes from the Greek word oikos, for "home" or "dwelling," while criticism in this case refers to judgement or discernment. Hence, ecocriticism is not only a mode of reading, but rather of dwelling critically, thinking about how reading literature can help us understand the world we live in. Ecocriticism is a practice, a mode of action as well as contemplation. It attempts not merely to understand the world, but to change it; to imagine new worlds, and to make worlds bearable; to mourn what has been lost and cling to all we can still save.
For Humanities First, Taylor is excited to think about what it means to read Mary Shelley's Frankenstein (1818) in the context of the Anthropocene, a new epoch in Earth's history defined by human action. Eighteen-year-old Mary Shelley wrote Frankenstein in the midst of climate chaos produced by the eruption of Mt Tambora, in Indonesia, which produced the infamous "Year Without a Summer." What does it mean to read it now, two hundred years later, in the midst of climate change, wildfire smoke, and a looming sense of planetary catastrophe?  
Co-Instructors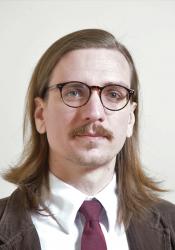 Jeffrey Jarzomb is a PhD candidate in the Department of German Studies at the University of Washington. Before coming to UW, Jeff received an MA and BA in German Studies from CSU Long Beach. Like many graduate students in the humanities, he never planned on pursuing a graduate degree in the field. It was the drive to experience and learn from a broad background of disciplines that first drew Jeff towards the humanities in general and German Studies in particular. Jeff is am currently working on his dissertation research centered around the development and expression of the term "Volk" in philosophy, drama, and literature from 1750 to the revolutions of 1848. His research attempts to engage with broad questions of representation and politics, shedding light on how a single word can change from a democratic call for freedom and representation into an organizing principle of fascist ideology.
Prior to working at UW, Dr. Michael Ritter was an instructor at UNC-Chapel Hill. Dr. Ritter has long been  interested in the function of Satire in modern American society and in the pursuit of his doctorate in Classical Studies at the University of Florida, became enamored with ancient poetry and particularly the Roman satirists (who claim to have invented the genre) with their philosophical and ethical inquiries into human behavior. Dr. Ritter's studies of the authorial voice in the satirist Juvenal have been published in Syllecta Classica as well as Classical Antiquity. Through his courses in Latin as well as those investigating various aspects of Graeco-Roman history, such as mythology and social life, Dr. Ritter has sought to glimpse with students a world both familiar and strikingly alien in their joint endeavor of piecing together how these cultures explore and make sense of the human condition.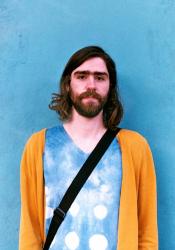 Dr. Alex McCauley works on ecology and political economy in nineteenth-century literature. Drownings, floods, swamps, sinking islands, liquefying crowds—that's his material. Dr. McCauley tracks those interests back to the 2004 Indian Ocean tsunami, when he was living in Thailand and went to the coast with my high school to help out with relief efforts. That specific flood has led Dr. McCauley to global water issues: too much water, or not enough, everywhere we look. And, too often, that means a small number of people profiting from controlling that water. The humanistic question Dr. McCauley cares most about is how to read. That means thinking about the possibilities and limits of interpretive methods, whether interpreting a provincial Victorian novel or a contemporary report on dams filling up with silt. The hard work is avoiding algorithmic thinking. It's very easy to see the same thing over and over wherever we look, and to repeat the same scripted arguments. (Like constantly complaining about a small number of people benefiting from controlling water.) The best solutions Dr. McCauley has found for that problem are attending to specifics, connecting those specifics to each other in new ways, and practicing self-criticism.
Humanities 102 (Winter) and 103 (Spring)
Sarah Stroup is a professor in the department of Classics, with undergraduate degrees from the University of Washington, and graduate degrees from the University of California-Berkeley.  Professor Stroup's research interests include the intellectual and textual history of the late Roman Republic (how political dangers change writing habit), late Republican cryptography (coded writing), advanced technologies of the Greeks and Romans, and Roman spectacles of power and violence. Professor Stroup especially enjoys her classes on STEM in the ancient world, sport and violent spectacle in the ancient world and today, and any course that reads ancient texts and objects next to modern ones. Professor Stroup is a strong believer in the public and professional value of a humanities education and is excited to be teaching in Humanities First this year. Professor Stroup is also the program director of Humanities First.
Sam Hushagen received his PhD in English literature from the University of Washington in 2019 after completing a dissertation on early-modern science and descriptive poetry. He researches the connections among poetry written between 1660 and 1850, philosophy of mind, and the history and philosophy of science to show how these areas can be seen in productive conjunction rather than as isolated pursuits. He is currently working on a book about landscape poetry and sense experience, and has published essays in The Wordsworth Circle, The William Carlos Williams Review, and Milton Quarterly. Sam has taught English and humanities courses at the University of Washington, Seattle Pacific University, and Highline College. He began teaching at UW as a graduate student in the English department in 2013. Before pursuing his doctorate, Sam was a UW undergraduate in English and CHID. He joins Humanities First as an Instructor for Humanities 102 and 103 and Program Coordinator.